I've really grown to enjoy what I do with my single coil guitars. My favorites are the Duo and my cheapass tele. Those are definitely what I grab most often because they just sound and feel the best for what I like playing most. That meant that ultimately I should have a proper Strat. Clearly.
Looked at G&L and some other options while I talked myself into buying something new, but when I saw this pearly sea foam sucker I knew I had to try it.
Picked up the one at GC down the street and liked it. Tried it a few more times over the later part of last year, and was sure that would be it. Considered a trade, but when that was obviously not going to work in my favor, I decided to just put some cash back for it. Tax refund made up my mind to buy as soon as it came through.
We were out and about yesterday and went to the GC downtown when Mrs. Beans said I should just get it then. That, of course, meant I should panic and totally rethink my decision and see if there was something else in that range that appealed to me as much.
But there was nothing at that one that hit me right. So we stopped in the one by the house and I actually found a few that I dug. There was a blue Epiphone LP with coil splitters that felt and sounded pretty nice. There was a vintage white Squier J Mascis Jazzmaster that I enjoyed a lot.
I picked up the relic purple tele, but it was not only beyond my price range, but didn't appeal to me in look or feel. I realized then that they didn't even have the Strat I wanted. It must have sold.
Well, fuck. I almost walked out with the Jazzmaster, but decided that would feel like settling. I would have felt there was something still lacking. So, we left and I wasn't sure what I was gonna do. They have a lot of Strats, but most were either beyond me or not appealing.
Looked online after getting home - because I checked availability damn near daily the last month.
It said they still had one at my store, so I called, and was told they did. The guy said he had the floor model and would get it cleaned up and looked over for me. I said I'd be there in an hour, halfway thinking that would give him time to scramble and figure out he really didn't have it in stock. But, they're only a 5-minute drive, so I took a shot to see what he'd come up with.
They did have one, it was still sealed in its shipping box. He had it behind the counter, waiting. I was concerned, since it wasn't the one I've played, and have read a few reviews where QC was a little spotty on some things. So, after looking it over and feeling frets and the neck, I bought it. If we didn't get along, it'd go back and I'd find something else.
But after 3 hours of playing it plugged in last night, I love this thing. Unplugged, it sustains for a long time with a pleasing acoustic tone. Great weight, and the neck feels the same, a little thickness to it which is nice. Got a decent listen to every position, clean, and it's a beaut.
Then, I hit the Swollen Pickle switch. Fuckdamn, that's fuzzy magic!
So, here's the trio. I guess I'm a fucking green, single coil guy.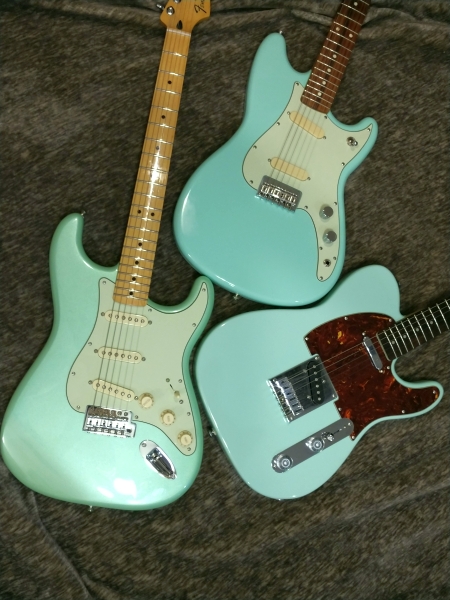 Gonna swap out the filthy strings for some 9s, though these do sound good.
It's easier to make up my mind about offloading a few others now. I've got my core. I'd really only like to keep the Chapman and Agile LP aside from these.
There was a used Revstar with Bigsby there that Mrs. Beans tried to convince me to get. She really liked it, but it just ain't my bag.
Last edited: